For those of you who have been following me in the last year, I have helped expose known scam artists and affiliate marketing scumbags such as
lotzofbotz
(aka The Binary Nerd) or
Gabriel Odinaka
, whose online reputation is now pure mud. Deservedly so since neither of these conmen can trade and spend most of their time hyping up their trading ability and scamming. They also slate real services and push their own bullshit. In lotzofbotz' case, Eric Engel (his real name) tries to help traders by overproducing money management videos, but ultimately as his trade4me stats show, he can't trade. In Gabriel Odinaka's case, he sells penis enlargement pills on the side or forwards newbies to fake brokers.
I had my eyes set on another a-hole called John Kane who has been selling Binary Bullet and many of my mates have lost a lot of money based on advice given by this fake non-entity who is behind the "review website"
www.BinaryToday.com
. I was going to do a detailed thread here on it after having collected a lot of evidence but it looks like the Bears beat me to it.
So i'll just repost it here.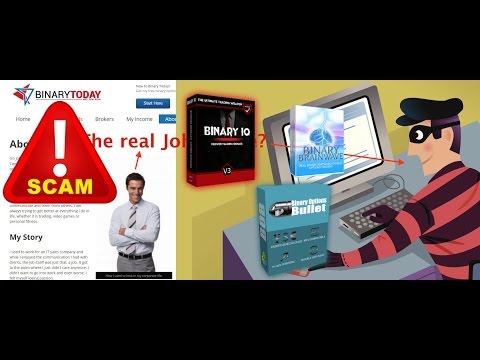 https://youtu.be/vsdwATfwEkk
To summarise, John Kane is
NOT TO BE TRUSTED.
He sells Binary IQ, Binary Today Trader, Binary Brain Wave, Binary Bullet and a wide assortment of bullshit indicators on MT4 that are all loss making.
Transparent Binary Options trader and former floor trader. Now giving signals to help people safely to make money at
Signal Hive
Please do not contact me to manage your account, I will never take anyone's money. You can see my live performance on Signal Hive and subscribe to me there.