Will keep the author a secert but props to his review as it is on point and very true.
JULIAN WONG of the Binary Lab or Binary Lab RETRO is nothing but an affiliate scam
I was part of his group for over four years and at the beginning I thought I learned a bit but after exploring the world of forex I learned that he only knows the basics and loves to overload his template with indicators and blindly trades off them alone; no price action, divergence or any other form of technical or fundamental analysis.
At the beginning of this year he was having so much trouble that his win rete was below 13% and he was missing or ignoring basic technical and fundamental analysis that he was losing more trades on his webinars than winning. After stepping way to move house and have a baby he came back after a month and demanded that every member in his group; 3K resign up and deposit to join a new group or if you was a new member within the last few months all you had to do was prove you signed up to one of his affiliated brokers so he can get his commission.
Ignoring that something was wrong and how he was doing over his long term customers I went ahead and joined this now group, The Binary Lab RETRO, as did a few other long term members but straight away I noticed that something was wrong as the broker of choice to rejoin was IQ Options, a broker that follows all regulation rules and does allow you to withdraw but has the worse affiliate campaign ever; the affiliate makes more commission off the losses of their sign ups.
The next flag that went up was what and how he was trading, he setup a strategy that members could trade off IQs 15 second chart which to this day gives 50/50 results. He ignores all the basic technical analysis such as price action, divergence, and any patterns at all he even states that fundaments such as news will not affect the 15sec chart. Her also offers a 7 tier martingale strategy that will supposedly allow your setups to win in the end but the truth is that they will blow their accounts and he, Julian, will get his commission from the losses.
As I have my own strategy for binary and forex I didn't bother with what he had to offer but when I saw members having trouble and no real guidance was given I added my own observations such as perhaps you are all having trouble due to trading off the 15sec chart and you are all ignoring basic technical analysis but was confronted with the market is shit and not the strategy. I rebuffed with that you need to check higher time frames as part of your daily analysis and ignoring news is very wrong, I even stated that the 15 sec chart trading is nothing but gambling and that there is too much noise to even try and read the charts. I even stated that binary in itself is nothing but a gamble which I didn't portray as negative as we all like to go to the casino.
My opinions where mostly ignored by the group as they have all been brainwashed to believe that no real knowledge is needed to trade and that the 15sec chart is the best time frame to get rich fast. As a byproduct in stating my opinion I was kicked out of the group and called a loser and a person who blew his account and blames Master Julian Wong for my own lack of understanding.
I want to inform everyone that Julian Wong is nothing but a very talented affiliate marketer and only has limited to basic trading knowledge. He also uses brokers that are not regulated such as BinaryMate and Finrally even though his members have stated they have been scammed by them as to prove he is only interested in the commissions he gets.
*DON'T SIGN UP TO JULIAN WONGS THE BINARY LAB RETRO GROUP AS ITS NOTHING BUT AN AFFILIATE COMMISSION SCAM*
SEE FOR YOURSELF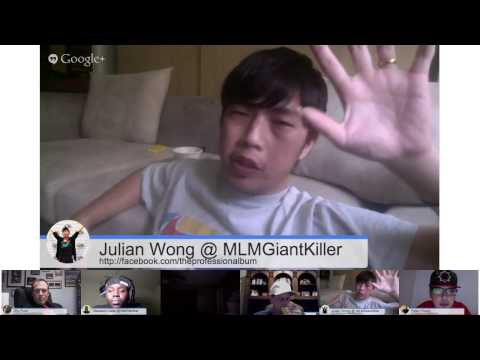 I will keep everyone's name in this telegram conversation hidden for their own privacy.... however.. you can read for yourself and see the honest response from members of the TBL before this RETRO to gain more money... true sheep in wolves clothing!!! DON'T GET SCAMMED!!!!!!!! HIS OWN WORD "WIN - WIN" b/c win/lose he get commission from you b/c your under him!!!!!!!
Even kicked out a seasoned, respected, honorable trader in TBL. All because this individual was helping out another member... Julian is in it for the money only and can careless about his members... the more his members win/lose/deposit money the more commission he makes...that's why he made such a strong push for IQ!!!!